BRIAN NIESSING
Sgt. Major Patrick O'Reilley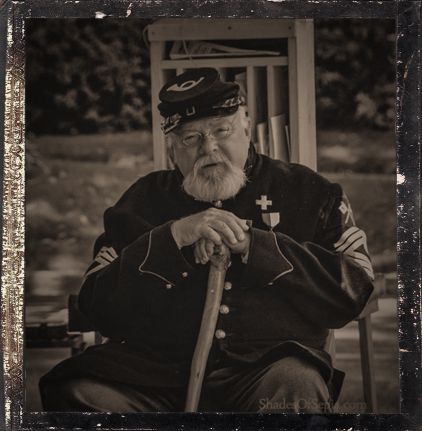 January 14, 1953 - December 25, 2014
Christmas 2014 was a Black Day for our regiment…

Brian Niessing, one of our Founding Fathers passed away leaving a gaping hole in the ranks that can never be filled.

For 14 years, Brian served as Vice President to our association. The reality is that Brian never held a junior position to anyone and for most of his time in office can correctly be described as 'Co-President'. He was an equal in all matters of leadership, direction, and creativity and with thirty years' experience running a post office his skills were invaluable in managing operations. Mentoring was one of his underrated talents. Brian had the knack for not only passing on knowledge but teaching new members how to solve their own problems. One of Brian's many sayings was 'don't give me problems; give me solutions'.

Brian's love for teaching was pure and sincere. The man made every possible school program on our calendar and he never failed to get the kids engaged. And his telegraph station was an enormous hit with students and teachers alike. Brian's devotion to teaching increased as his health declined forcing him to retreat from the battlefield.

Demanding of himself as he was of others, Brian believed there was always room for improvement and no place for complacency. A man who had seen genuine war and endured great trials & tribulations, including many failures, still found hope for the future. Brian was a man of no excuses. Even as his health declined and he was no longer able to shoulder a musket, he reinvented himself as a cook and created an impressive commissary department. And when that became too much, he had the brilliant idea of a Telegraph Office that became a huge hit with the public.

Brian took the beatings from life quietly and kept moving forward. Whenever our regiment was in rough waters under blackened skies, when his comrades hearts were broken & bleeding, and giving up was never so tempting, Brian was there to console and inspire. Our ship might've sunk long ago if not for his guidance. Brian was looking forward to the new season and still willing to serve as Vice President even if this would've been his 15th year doing so. He was eager to attend the Grand Review in DC in May and finally see Green-wood cemetery on Memorial Day. We'll have him in spirit, anyways.

This on-line memorial barely does justice for the man and can only give the faintest examples of his strength, courage, perseverance, intelligence, humor, and love. The First Long Island has lost an irreplaceable leader yet Brian would insist that the only direction worthy of honor is charging forward.